Our Weekly Discontents: July 27, 2020
Welcome to our new hangout
Hi, and welcome to the very first issue of Discontents! I'm Derek (more on that later), creator of Foreign Exchanges, and I couldn't be more pleased to introduce you all to this new collective effort by an amazing group of Substack writers and podcasters. Like you, we've all watched the media landscape become simultaneously more confined and more atomized, divided between a shrinking corporate-controlled legacy wing and the expanding world of newsletters, podcasts, and blogs. The former seems to be forever muzzling its most interesting voices, while the latter is growing at such a dizzying rate that those voices can be lost in a sea of content. It's not a pretty picture, and you might say it's left all of us a bit…discontented. See what I did there? "Discontented," get it? Folks? Hello?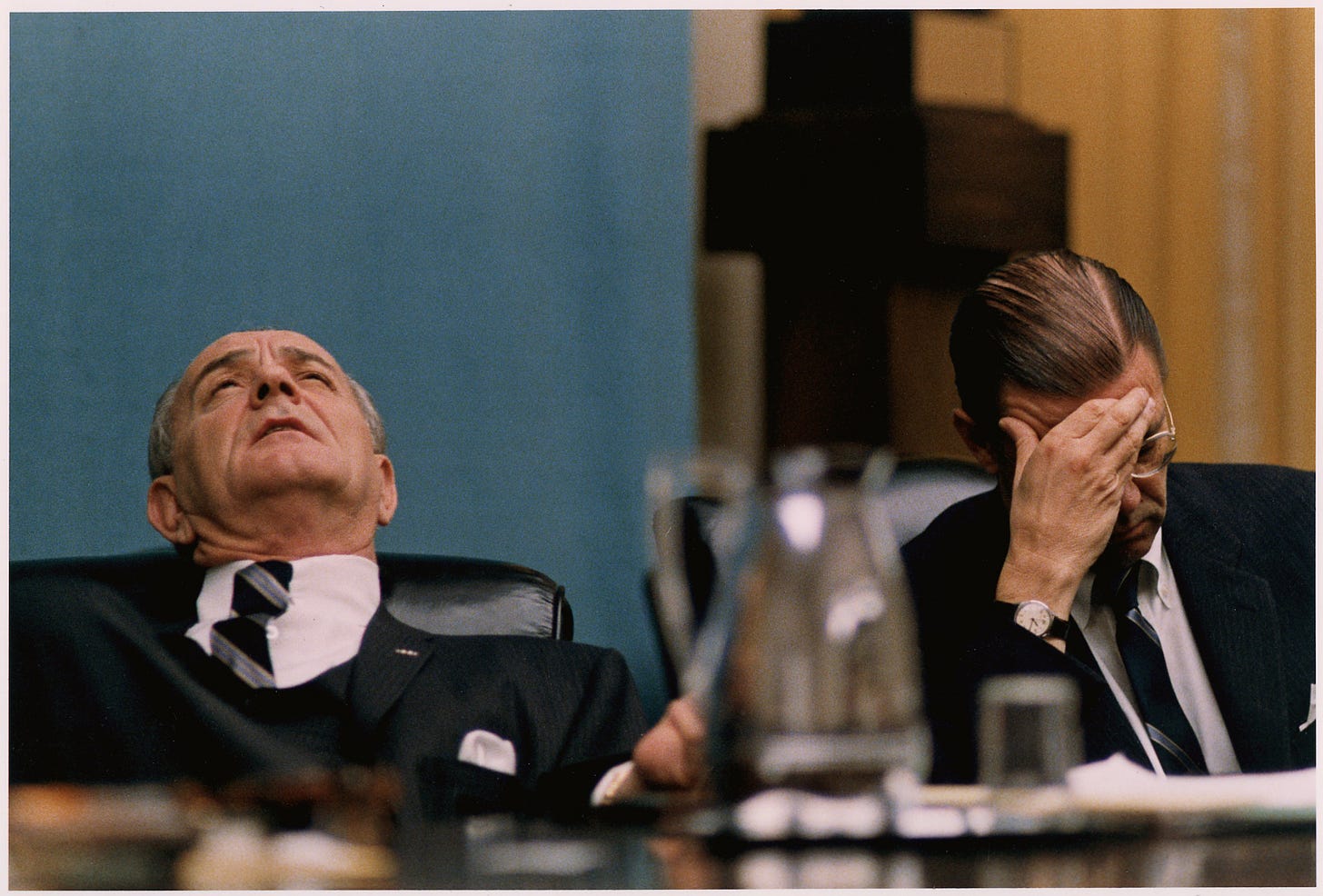 Source: US National Archives and Records Administration
Sorry, sorry. Our goal here is to try to create something new: a place that brings some of those individual voices back together without stifling what makes them interesting. For now, we're starting with what you're reading right now: a weekly newsletter that collects the work of some of the best of the Substack left and directs you to our individual outlets, where you can find these pieces and much more. We hope through this effort to share our work and bring it to new audiences. You may already know one or even a few of these outlets, but we're betting there are several that will be new to you. We aim to build a community here within Substack that can elevate all of us and hopefully nurture new voices as well — including yours, which is a roundabout way of saying that the comments are open. We have some ideas about where to take this project down the road, but we're taking it one step at a time. We hope you'll come along with us:
This week's newsletter is going to be a little different than the norm. Since it's our first outing, we're going to introduce ourselves in addition to our recent work. As we ease into this newsletter we'd ask you to be patient. There may be some changes in these early weeks — in formatting, timing, length, and so forth — as we work out the kinks in the system. And we hope to continue adding to our collective from time to time, so you'll see new voices joining us. Each week this introduction and the conclusion will be written by a different member of our group, so please join us again next week when Welcome to Hell World's Luke O'Neil will be here. Thanks for reading!
---
Welcome to Hell World
Welcome to Hell World by Luke O'Neil is a "vital and despairing collection of essays on modern American life" (Longreads). A "mix of reporting, essay-writing, memoir, song lyrics, music videos…all written in a stream-of-consciousness style that eschews commas, leans into run-on sentences, and is often thousands of words long. It can get grim, but it's incisive in a way most other newsletters aren't." (Boston Magazine).
Recent posts include an interview with a water park worker in Florida — "Right when I came back they said we're going to do all this social distancing stuff, we're gonna be safe, bla bla bla. They had these big plans for social distancing and masks and whatnot. I came back and realized that almost all of it was for show…" — a gorgeous and furious essay by Jeb Lund on life in isolation raising a child, an interview with journalist and labor organizer Kim Kelly about why police are not workers and should be kicked out of major labor unions, and an interview with Pulitzer winner Wes Lowery about the overabundance of deference given to police by media outlets, the ongoing idiotic debate about "cancel culture" in the media, and the state of journalism today.
Cruel and Usual
Hi, I'm Shane, a journalist-turned-public defender. I write Cruel and Usual, a sporadically updated newsletter loosely about the system of punishment in America. Topics meander through the ills of the criminal legal system, the horrors of our prisons and jails, and occasionally immigration detention and deportation (the Supreme Court doesn't consider it punishment, but I do, as should you). Being as I've retained my journalistic love of navel-gazing, it is also about how the media frames stories about crime and punishment, often sensationalizing racist narratives fed to them by the police or other government agencies without the slightest fact checking.
no love in fear
My name is André Carlisle and first things first, I think it's a bit bonkers that I am here too. Now, with that out of the way, my newsletter is no love in fear and was created to be an outlet for the many, many (too many) things that float around in my brain, and that I can't let go. Expect ruminations on racism in American culture and/or sports, songs I adore and that transport me to vivid places, soccer, film/tv/documentary reviews, maybe some drawings, and all with the ultimate goal of one day being capable of writing something about this Anthony Bourdain tweet that does him justice.
BORDER/LINES
Hi, we're Gaby Del Valle and Felipe De La Hoz, two immigration beat journalists. We started BORDER/LINES because we noticed our friends and colleagues were often bewildered and overwhelmed by the pace of changes to federal immigration policies in the last three years. Many people seemed to care deeply about it, but could barely keep up with the headlines, let alone what any of it actually meant in context and how it interacted with all the other changes coming down the pike. So we created BORDER/LINES, a weekly breakdown of one big development in immigration that analyzes its legal framing, the history leading up to it, what it could mean in practice, and how it might all play out. We also compile some stories that might have flown under the radar, and developing stories to keep an eye on. On occasion, we go more in-depth with Q&As and more detailed policy analyses for our premium subscribers.
A Lonely Impulse of Delight
My name is Connor Wroe Southard, and I'm a podcaster, a novelist, and a prolific user of Twitter. My newsletter, A Lonely Impulse of Delight, is dedicated to "how stories work," which usually means that I write about a piece of narrative art — book, movie, TV show, sanctified musical, etc. — from an angle I hope feels fresh and illuminating. I also detour into other arts and culture topics, such as the truth about Millennial writers, or attempts to do justice to the life and work of a good friend. I also do a running commentary on Calvin and Hobbes, aggregate content I think you might find interesting, and link to a weekly poem. Sign up so you can help me figure out what to do when I start adding premium content, which could include more #takes as well as something more out there, like a serialized novel.
Perspectives: Past, Present, and Future
Hi! I'm Patrick Wyman, a history PhD turned podcaster and writer. I write Perspectives: Past, Present, and Future, which offers essays on current events in deep historical perspective. In recent weeks, I've written on how imperial wars always come home sooner or later, what an institution actually is and why ours seem to be falling apart, our ongoing crisis of political legitimacy, and how police violence reinforces the social order.
My day job is making a history podcast called Tides of History, and Perspectives also includes regular posts with assorted musings, pictures, and videos on the topics I'm currently covering. Right now, that topic is prehistory and how recent advances have transformed our understanding of the deep human past. Our ancient ancestors got around, interbreeding with the multiple other species of archaic humans (Neanderthals, Denisovans, etc.) with whom we shared the planet until the very recent past. Future posts will look at books about various aspects of history that are worth your time, along with discussions and questions about whatever strikes your fancy.
Be The Spark
Hey, I'm Kim Kelly, a freelance journalist, labor organizer, and author. I write Be The Spark, a newsletter about labor, politics, and growing up in the middle of nowhere, and also contribute to publications like the Baffler, the New Republic, the Washington Post, and Esquire; I'm also behind most of Teen Vogue's labor coverage. I launched this newsletter last summer, after Tucker Carlson attacked me on his show and I got worried about my future job prospects as a mouthy anarchist scribbler (that's why I started a Patreon, too). The product itself is a bit of a hodgepodge; sometimes I write essays, sometimes it's more of a roundup of my published work, and sometimes it's music recommendations (in a past life, I was VICE's heavy metal editor — I know, I was surprised it was a job, too) as well as various and sundry revolutionary thoughts.
It's also where I host my Overworked & Under Plague series, which is a collection of as-told-to workers' stories from the early days of COVID-19, and where I sometimes indulge in more personal writing and dispatches from the backwoods. Right now, I'm working on two books, so I'll be adding updates and little peeks at that process on here, too. Essentially, think of Be The Spark as to your quirky antifa big sister's diary.
Wars of Future Past
Howdy! I'm Kelsey D. Atherton, and when the market allows I'm a journalist covering the technology of war. In Wars of Future Past, I dive into the deeper stories, background details, and big questions behind the tools humans use against other humans. Before starting Wars of Future Past, I launched and ran the Tomorrow Wars newsletter at C4ISRNET, where I built out beat coverage into a way to ask the industry to take seriously the second- and third- (and, heck, sometimes even first-) order effects of war machines.

With Poor Richard's On Fire, I used the recent inferno on board the USS Bonhomme Richard as a way to get at the unquestioned policy assumptions that treat billion-dollar aircraft-and-boat carriers as normal. Military acquisitions stories are background in news until they suddenly aren't. I'm hoping to tell more stories about the choices that go into developing autonomous robots before they stumble into the foreground with weapons and weird coding around the laws of war.
Discourse Blog
Discourse Blog is a leftist politics and culture blog/newsletter launched in March 2020 by the former staff of Splinter. We didn't feel like there was a home in the corporate media hellscape for the kind of journalism we wanted to do, so we started this independent, worker-owned collective instead.
Favorite topics include political movements, the inept Democratic establishment, the conservative death cult, labor and worker rights, and cultural moments shaping the national conversation. We have a special interest in media criticism, particularly how the mainstream press covers (or fails to cover) the most important stories of our time. We've recently begun collaborating on reporting projects with other independent media outlets. And we like getting stupid and personal.
Subscribers get access to all of our content, including recurring features and the most deranged roundup of the week's news you will ever read. We also have regular subscriber-only chats.
Air Gordon pt. 2
Hi — my name's Jeremy Gordon, and I used to work at The Outline (RIP), Pitchfork, and SPIN. My newsletter, Air Gordon pt. 2, is named for my old Tumblr, and, obviously, the greatest basketball player of all-time. I'm most interested in the messy ways that culture (meaning cultural items like music/movies/TV/video games/etc. but also the audiences, ideologies, market forces, etc. underpinning those items) collides with itself. That topic is occasionally too knotty or byzantine to untangle in a standard review or profile, so I'm using my allotted time to dig into that without the constricts of needing an "angle," now that COVID-19 has dynamited what was already an ailing business model. Air Gordon pt. 2 is new — my first entry was about the vague shame of listening to Japandroids, and my second was about randonauting/Herman Melville/this and that — but I promise to be interesting and never obvious.
The Insurgents
The Insurgents is a news and politics podcast and newsletter from Jordan Uhl, Rob Rousseau & (occasionally) Ken Klippenstein that features serious discussion of the important international events shaping our increasingly grim reality with a variety of terrific guests, as well as what can best be described as an ongoing serialized radio play about life at a high-powered and incredibly self-righteous liberal think tank and consultancy group. This week we teamed up with fellow Discontents member Gaby Del Valle of BORDER/LINES to discuss the impact coronavirus is having on immigrant communities, specifically families at the border seeking asylum, the broken immigration process that leaves immigrants even more susceptible to the virus and how, despite all the 👏there👏are👏kids👏in👏cages👏 posturing from Democrats, little is being done to actually remedy the situation or prevent it from happening again in the future.
Foreign Exchanges
It's Derek again. I created Foreign Exchanges as a way to help people stay on top of international affairs and especially US foreign policy. I compile world news and analysis (sometimes mine, if I have something to say) in nightly digests, like this one. Wondering about the state of peace talks in Afghanistan, or the political crisis in Mali? They're in there. I do three updates per week for everyone and three that are reserved for subscribers.
I also host a podcast, usually for subscribers on topics of interest in Middle Eastern history (my background), but on occasion I'll bring in guests for interviews on a wide range of subjects. In just the past couple of weeks I've interviewed the co-hosts of the Iraq War podcast Blowback, Brendan James and Noah Kulwin, and Owen Miller, a lecturer in Korean Studies at the University of London, to discuss the roots of the Korean War. Those are available to the public.
Subscribers also get access to weekly "Ask Me Anything" sessions and occasional essays, dealing either with current events or topics related to Middle Eastern history. I just did one a few days ago on the Hagia Sophia in Istanbul that I've unlocked, if you'd like to go check it out.
---
So that's who we are. Starting next week the newsletter will be more focused on what we're doing. Please sign up today so you don't miss it:
This being our first newsletter, I'd like to be able to end on an upbeat note. But all of us would be remiss if we didn't take a moment to acknowledge the sudden passing last week of Michael Brooks, co-host of The Majority Report with Sam Seder and host of The Michael Brooks Show. Michael's intelligence, his curiosity, his humor, and his boundless sense of compassion touched everyone who knew him and his loss leaves a wound that will not easily be healed. Rest in peace, Michael.
Thank you for reading.